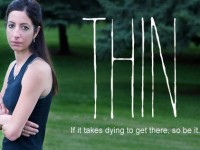 The 2006 cinéma vérité documentary film, THIN, directed by Lauren Greenfield and distributed by HBO, is an exploration of The Renfrew Center in Coconut Creek, Florida; a 40-bed residential facility for the treatment of women with eating disorders. The film mostly revolves around four women with anorexia nervosa and/or bulimia and their struggles for recovery.
Living at the center for six months, Greenfield and director of photography Amanda Micheli received unrestricted access, filming not just the therapy sessions, mealtimes and daily weigh-ins that construct the highly structured routine of inpatients' daily lives, but also exploring their turbulent interpersonal relationships with each other, with family and with staff. Access to staff meetings allows us insight into the efforts of the Renfrew medical team and the complex tasks facing them.
The making of the documentary THIN was a continuation of a decade-long exploration of body image and the way the female body has become a primary expression of identity for girls and women in our time. I am intrigued by the way the female body has become a tablet on which our culture's conflicting messages about femininity are written and rewritten.
THIN is the centerpiece of a multi-faceted campaign designed to explore issues surrounding body image and eating disorders, including a companion book, traveling exhibition of Greenfield's work and a website.
thindocumentary.com